18M

7

5

mm Insulations EPS Heat Spraying And Baking Portable Industrial Spray Booths



Tag:
Water Spray Booth
,
Spray Bake Paint Booth
Booth Dimension
- Internal Size(L×B×H)
18000×5000×5000mm& 59'X16'4''X16'4''
- External Size(L×B×H)
18144×6896×5600mm& 59'5''X22'6''X18'4''
Foundation and Floor
- Grid
2 rows air exhust plenum chamber
- Metal Basement
Need to build the base construction , 2 rows of pits in the ground for exhaust air,
dimension of each pit is 16100×760mm(L×W), with galvanized grids made by
twisted steel and flat bar above
Wall and Door
- Steel Wall
Profiled bar beams in the roof to strengthen the room body Double
construction with insulations EPS , thickness 75mm, width:950mm,
tongue and groove interlock structure
- Roof Panel
Single profiling galvanization plate
- 4-Folded Entrance Door
With Safety Glass Window
1 Unit, 4000×4500mm(WxH) galvanized steel cover frame, with polystyrene(EPS) inside
- Operator's Door With
Safety Glass Window
2Units, 650×2000 mm(W×H)
Lighting System
- Ceiling Lights
24Units, each 4×36 W, with electronic ballasts
- Side Lights
28Units, each 2×36W, with electronic ballasts
Filter System
- Filter
Pre-filter, ceiling filter, exhaust fiberglass filter, activated carbon filter.
- Filtering area
75M2
Ventilation System
- Intake air system
(Fresh Air)
6×5.5KW double-intake centrifugal fans for intake air, model YDW4.5S, total air
capacity: 93000m3/h
- Exhaust
air system(Exhaust Air)
3×11KW double-intake centrifugal fans for exhaust air, with motor outside, belt-drive, model TAE-630H, total air capacity: 84000m3/h
- Damper actuates
Pneumatic damper actuates from spraying to baking cycle,
manual dampers for exhaust air
Heating System
- Heating Exchange
Stainless Steel
- Heating
Exchange Capacity
260000Kcal/h
- Max. Drying
Temperature
80 °C
- Heating time
10-15 min (from 20 to 60) by Drying Phase
- Heating Type (optional)
RIELLO RG5S (260000 kcal/h)Diesel )3set
Control Box
- Control system
Spraying, heat spraying, baking, time setting, lighting switch, failure indicator,
thermostat, power supply switch, emergency stop, ampere meter, voltmeter,
hour meter, temperature limit controller, pressure gauge, exhaust reduction
voltage motor start
- Total power
75.5KW
Our advantages:
1. 2 years warranty
2. same price, higher quality; same quality, lower price
3. professional team from design to install
4. customized service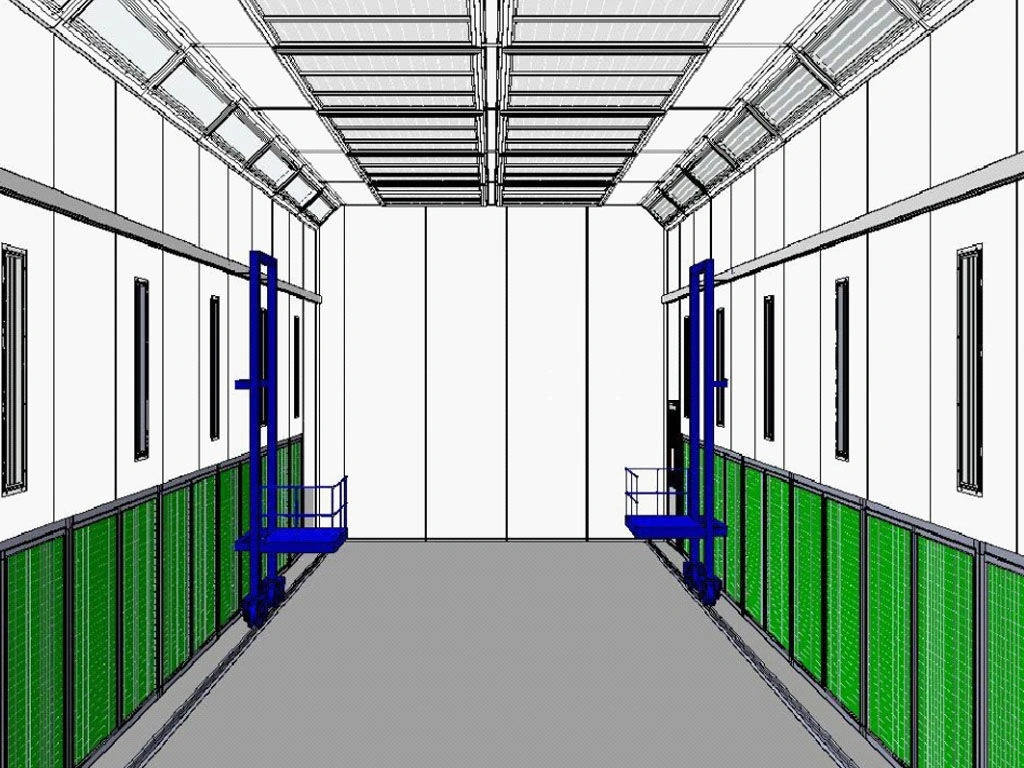 pictures to show our workshop and stock to ensure fast delivery!